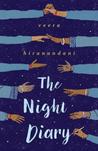 The Night Diary
by
Veera Hiranandani
My rating:
5 of 5 stars
I loved the author's first book, so was looking forward to this and was not disappointed!
Nisha and her twin brother, Amil, live with their Papa, grandmother Dadi, and their beloved cook, Kazi. Kazi gives her a diary on her twelfth birthday, and every night she writes in it. About her wish for a friend, about her brother's difficulty reading and their father's frustration with that, about how busy their father, a doctor, is, about how she loves to help Kazi in the kitchen, about the loss she feels for her mother, who died when the twins were born.
She also writes about the politics that adults are talking about. It's 1947 and India is about to become independent. It's an exciting time, except that a boundary will drawn between the Hindu part -- India -- and the Muslim part -- Pakistan.
Nisha and their family are Hindus. They live in the section that will be Pakistan.
Nisha tells of how splitting the country and creating a border creates an "us" and "them" that then creates violence. The family has a growing fear that their neighbors will attack them. Nisha's mother was Muslim; Kazi is a Muslim, and Nisha doesn't understand the hate.
The four leave their home behind, and I'll admit: the journey and the difficulties made me want to skip ahead to find out what happens to them, to make sure they are safe. It's a tough journey and it's scary, and their is kindness and cruelty, but it's all at a level that is aware of it's middle school audience.
In addition to an adventure, and a family story, it's also a good portrayal of what happened in India in 1947.
View all my reviews