Save the date!
On Tuesday, August 18, at 4:30 pm ET/ 1:30 pm PT, there will be a
Little, Brown
Twitter Chat with
Jennifer E. Smith
about her new book,
Hello, Goodbye, and Everything in Between
(publication date September 2015).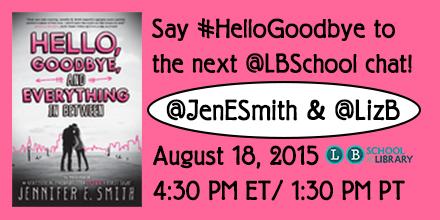 I'm happy to say that I've been invited to be part of it; and I'm looking forward to it very much.
As you can tell from my reviews of Smith's previous books (
The Statistical Probability of Love at First Sight
and
This is What Happy Looks Like
), I enjoy Smith's works and her writing so I'm looking forward to chatting with her on Twitter.
Twitter handles to know for the chat: @LBSchool, @JenESmith, and @LizB; and the hashtag to follow is #HelloGoodbye.
Make a note on your calendar; and don't worry, I'll be reminding you again before it starts!
Amazon Affiliate. If you click from here to Amazon and buy something, I receive a percentage of the purchase price.
© Elizabeth Burns of
A Chair, A Fireplace & A Tea Cozy