Simon vs. the Homo Sapiens Agenda
by
Becky Albertalli
.
Balzer + Bray an imprint of HarperCollins
2015. Review copy from publisher.
YALSA Morris Award Finalist
.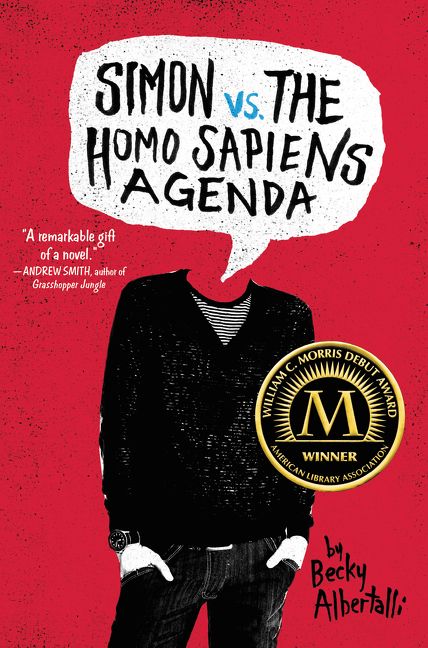 The Plot
: Simon, sixteen, is being blackmailed by Martin. See, Simon didn't totally log out of his email account on a school computer so when Martin sat down he saw them. And read them. And made copies.
So, Martin is threatening to tell everyone that Simon is gay. Simon hasn't even told his closest friends. The only person who knows is the person on the other end of Martin's email conversations, someone named Blue. Who Simon knows better than anyone else -- the only thing Simon doesn't know about Blue is what his real name is.
The Good
: This is one of those books where I started off not liking Simon that much. No, really. About page thirty I put this down and eye-rolled because I found him just too self absorbed and immature and annoying.
And then I picked it up again, because I'd committed myself to YALSA's Morris challenge to read all the finalists before Midwinter, and something clicked. And instead of having no patience with Simon I instead began laughing with him, and seeing his insecurities, and loving his loyalty, and shaking my head in sympathy at his self-absorption.
Simon
is about Simon, of course -- he's the one telling the story, and it's his emails with Blue that are shared. It's not just being blackmailed by Martin - oh, by the way, Martin's purpose of the blackmail? Martin likes Abby, and Simon is friends with Abby, so Martin wants Simon to help things along with Abby. Except that Simon doesn't like being blackmailed by Martin, and Abby is a good friend, and he thinks Abby likes Nick. Nick has been Simon's friend since forever, along with Leah, and Leah and Abby do not get along.
And then there is Blue, and all Simon knows is that Blue goes to his school, but other than that no details to know who Blue is. Blue, like Simon, is gay; and Blue, like Simon, hasn't told anyone. Not yet. As Simon says early on, "
maybe it would be different if we lived in New York, but I don't know how to be gay in Georgia. We're right outside Atlanta, so I know it could be worse. But Shady Creek isn't exactly a progressive paradise
."
Later, Simon thinks about coming out and how it's this big thing and how he doesn't want to say anything, at least not yet, not because he is afraid or worried about how his family and friends will react, but because it's a thing. "
Don't you think everyone should come out? Why is straight the default? Everyone should declare one way or another, and it should be this big awkward thing whether you're straight, gay, bi, or whatever
."
Of course, Simon is trying to figure out who Blue really is. And thinking about the cute boys at his school. And dealing with his friends' drama (Nick and Leah and Abby). And then there are his parents, which at first I worried about because of the gay jokes his Dad makes, but what is wonderful about
Simon
is it shows that all his dad is doing is making dumb Dad jokes and while it bothers Simon it small-b bothers him, not big-B bothers him. His family is supportive and close, and at times too close and overbearing, but at all times loving. It's a great book family.
I'm glad I didn't let my initial irritation with Simon turn this into a do-not-finish; I'm glad that I gave the whole book, and the whole Simon, a chance. Because both Simon and Simon are terrific, and thanks to the Morris committee for selecting this title and the YALSA Hub challenge for making me read it.
Oh, and my favorite scene is the one where Simon gets drunk. That's all I'm saying, but it's so cute and delightful and funny.
Amazon Affiliate. If you click from here to Amazon and buy something, I receive a percentage of the purchase price.
© Elizabeth Burns of
A Chair, A Fireplace & A Tea Cozy